Three Reasons to Straighten your Teeth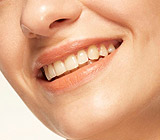 If you've lived for many years with crooked teeth, you may think that your teeth will be this way forever. Believe it or not, one out of every five orthodontic patients is an adult and 75% of adults have some form of malocclusion. You're never too old to improve your smile, and here a few reasons why you should consider orthodontic treatment:
Self-Esteem: An attractive smile contributes to your confidence and self-image, and this is important at any age. Research has shown that, logically, the better you feel about your looks, the better you feel about yourself. You might not realize it, but those crooked teeth can cause you to be self-conscious, thus smiling and talking less. Studies have even demonstrated that orthodontic treatments can enhance your career opportunities.
Longevity: Though you can always expect a certain amount of wear and tear to your teeth from aging, properly aligned teeth will function better over time. If you are prone to gum disease, your problems can worsen with poorly aligned teeth. Not only is it more difficult to clean around crooked teeth, but we often see gum recession around poorly positioned or crowded teeth.
Options: If you choose to explore orthodontic treatment, you will see that much has changed since you were a teenager. Instead of traditional metal braces, we can sometimes use clear or colorless braces that are less noticeable. Some braces can even be attached to the back of your teeth. You may also be a candidate for clear orthodontic aligners, which use a sequence of clear, removable and custom-fitted trays to gradually straighten your teeth.
If you're considering orthodontic treatment, you should schedule an appointment with our office, so that we can conduct a thorough examination, discuss your options and recommend a course of treatment. We'll also make sure that your teeth and gums are healthy, an important requirement to successfully straighten your teeth.
If you would like more information about adult orthodontics, please contact us today at (248) 589-2021 to schedule an appointment for a consultation. You can also learn more by reading the Dear Doctor magazine article "Orthodontics for the Older Adult."
Posted by drgraef on Aug 22nd, 2013 10:31 pm
Filed under orthodontics . You can follow any responses to this entry through the RSS 2.0 feed. Both comments and pings are currently closed.
Tags: braces, clawson orthodontics, clear aligners, invisalign
Comments are closed.