The Importance of Orthodontic Retainers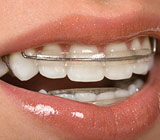 We'd like to take a moment to clarify why it is so important to wear the retainer(s) given to you after your orthodontic treatment. These devices, which literally "retain" your teeth in their new and improved positions, are not just for kids. Anyone who has recently had their teeth moved through orthodontics needs to wear them for the prescribed length of time. Here's why:
Though your teeth may now look perfectly aligned, research has shown that there is no "right" position for your teeth to be in that can assure they don't move again — no matter what age you are when treated for malocclusion ("mal" – bad; "occlusion" – bite). In fact, most people will see changes to their bite and tooth alignment as they get older, with or without orthodontic treatment.
For one thing, there is a natural tendency for bottom front teeth to undergo a gradual "uprighting" with age. This can cause them to crowd as they move toward the tongue. And it happens regardless of whether wisdom teeth are present.
In the case of teeth that have been straightened recently, a type of "memory" of their original position may cause them to drift back to it. This tendency gradually lessens, but it may be a problem for up to 18 months.
That's why it's crucial to follow our instructions for wearing retainers. Keep in mind that the plan we have given you is designed to achieve the best possible results in your individual case. Some people will need to wear retainers 24 hours per day, some just at night, and still others on an as-needed basis. You may have received a removable retainer or one that is secured to the back of your teeth. The important thing is to secure the results you've worked so hard to achieve.
If you have any questions about orthodontic retainers, please contact us today at (248) 589-2021 to schedule an appointment for an orthodontic consultation.
You can read more about this topic in the Dear Doctor magazine article "The Importance of Orthodontic Retainers."
Posted by drgraef on Mar 14th, 2012 4:43 pm
Filed under orthodontics . You can follow any responses to this entry through the RSS 2.0 feed. Both comments and pings are currently closed.
Tags: braces, clawson cosmetic dentist, clawson orthodontics, orthodontic retainers
Comments are closed.