Rebuilding Your Smile With Dental Implants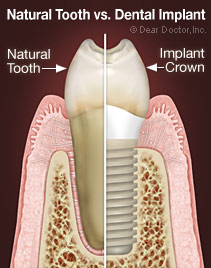 If you've lost one or more of your teeth due to tooth decay, trauma, gum disease or a failed root canal, there are a variety of ways that our office can help you to restore your smile and increase your confidence. Crowns, conventional bridges and dentures aren't your only options for replacing missing teeth. Dental implants, surgically placed below the gums, are another alternative for replacing missing teeth.
Getting Started: If you would like to explore the option of having dental implants to replace one or more teeth, you will first need a comprehensive exam. The ideal candidate for implants is in good general and oral health. Adequate bone in your jaw is needed to support an implant. Smokers and those with uncontrolled chronic diseases like diabetes may not be good candidates for dental implants because healing may be impaired or slow. In addition, dental implants aren't appropriate for children or teens until their jaw growth is complete.
The Process: Dental implant surgery can be performed in our office using either a local or general anesthetic. The implants actually replace tooth roots; they are placed into the bone surgically. Generally made of commercially pure titanium, this metal has the remarkable ability to fuse with the bone as it heals forming a union known as osseointegration ("osseo" – bone; "integration" – to fuse with). This process takes two to six months depending upon many factors of which bone quality is the most important.
The next step is to place an abutment (a small connector) which attaches the implant to the crown. The crown is the part of the tooth that is normally seen in the mouth above the gums.
Assessment of your individual situation and deciding if dental implants are right for you takes knowledge and experience. Contact us today at (248) 589-2021 to schedule an appointment to discuss any questions you may have regarding dental implants. Read more about this topic in the Dear Doctor magazine article "Dental Implants: Options for Replacing Missing Teeth."
Posted by drgraef on Oct 30th, 2011 10:52 pm
Filed under Dental Implants . You can follow any responses to this entry through the RSS 2.0 feed. Both comments and pings are currently closed.
Comments are closed.