Questions about Cosmetic Dentistry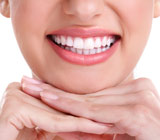 Once you've decided to make over your smile, you're embarking on an exciting journey to restore your smile and your confidence. As experts in cosmetic dentistry, you should consider us partners on this journey, here to help not only fulfill your vision, but also answer any questions while making you feel at ease throughout the process.
Today there are many options for making over your smile, and when we meet for an initial consultation, we'll discuss many of them with you. Until then, you might have some questions about cosmetic dentistry.
What is a cosmetic dentist?
We are restorative dentists who are experts in the art of smile design. We have put a great deal of emphasis on studying the concepts of smile design and the innovative materials used for a smile makeover. We have made it our life's work to remain up-to-date on the latest innovations in dentistry.
What is the difference between cosmetic and restorative dentistry?
There is some overlap between cosmetic and restorative dentistry. However, a cosmetic dentist goes beyond restoring your teeth to their proper function — our goal is to achieve the most optimal esthetic result and satisfy the vision that you have for your smile.
What can I expect at the initial consultation?
Before you come in for the initial consultation, ask yourself some important questions:
Do you dislike the color of your teeth?
Do you have chips or cracks that need to be fixed?
Do you have crooked teeth or spaces between teeth that you would like eliminated?
The goal of this first appointment will be to determine exactly what you want out of your smile makeover. We suggest that you bring in photos to show us what you would like your future smile to look like. We will also conduct a thorough examination to determine if your cosmetic issues are the result of any underlying health issues. During this examination, we'll be doing a Smile Analysis, studying all of the elements of your smile, from teeth to gums and jaws. From there, we'll walk through treatment options, including pricing and timelines, and develop a plan of action.
If you would like more information about cosmetic dentistry and the procedures we may recommend for your smile makeover, please contact us today at (248) 589-2021 to schedule an appointment for a consultation. You can also learn more by reading the Dear Doctor magazine article "Cosmetic Dentistry."
Posted by drgraef on Apr 15th, 2013 12:22 pm
Filed under cosmetic dentistry . You can follow any responses to this entry through the RSS 2.0 feed. Both comments and pings are currently closed.
Tags: clawson cosmetic dentist, clawson dentist, cosmetic dentistry, porcelain veneers
Comments are closed.