Frequently Asked Questions About Tooth-Colored Fillings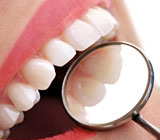 Are tooth-colored fillings safer than silver fillings?
No. Both are considered safe based on the most reliable and up-to-date scientific evidence. Still, tooth-colored fillings do have some definite advantages. Not only do they blend in with your smile far better than "silver" (dental amalgam) fillings, but they often require less removal of healthy tooth structure. That's because in order to fill a tooth with amalgam, it is necessary to create indentations in the tooth called "undercuts" to hold the amalgam in; this requires the removal of some healthy tooth material. With a tooth-colored filling, we need only remove the decayed part of the tooth to place the filling.
Are there any disadvantages?
Yes, tooth-colored fillings don't always wear as well as metal fillings — particularly on back molars where they are subjected to the most stress from chewing. They are also more expensive and less likely to be fully reimbursed under dental insurance plans.
Are there different types of tooth-colored fillings?
Yes, three different choices of tooth-colored fillings are available:
Composite — This mixture of plastic and glass is the most common type of tooth-colored filling. Newer materials can hold up almost as long as amalgam fillings and look very natural, though they can stain over time just as natural teeth do.
Porcelain — High-tech dental ceramics are considered the most aesthetic choice of filling material. They don't stain as composites can, but their relatively high glass content can make them more brittle and prone to breakage. They may be more expensive than composites.
Glass Ionomer — Made of acrylic and glass powders, these inexpensive, translucent fillings blend in acceptably well with natural teeth and have the advantage of releasing small amounts of fluoride to help prevent decay. However, they generally don't last as long as other restorative materials.
We would be happy to offer guidance on which choice would be best in your own unique situation.
If you have any questions about tooth-colored fillings, please contact us or schedule an appointment for a consultation. You can learn more by reading the Dear Doctor magazine article "The Natural Beauty of Tooth-Colored Fillings."
Posted by drgraef on Jun 23rd, 2014 1:53 pm
Filed under fillings . You can follow any responses to this entry through the RSS 2.0 feed. Both comments and pings are currently closed.
Comments are closed.