Providing A Clear Alternative To Traditional Orthodontic Braces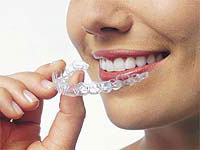 Years ago, if you hadn't received braces by the time you finished high school odds are you would never pursue orthodontic treatment. Most adults wouldn't have even dreamed of wearing braces! Thankfully, today, Invisalign clear aligners have quickly become a popular alternative for adults who have mild to moderate crowding or spacing of teeth.
Unlike traditional orthodontic "braces" in which small (metal) brackets are attached to the teeth, clear aligners use a sequence of individual, clear, removable "trays" to straighten teeth. These trays completely cover each tooth and gradually move the teeth into new improved positions. Clear aligners can be used to realign mildly crowded or tipped teeth, to close small spaces between teeth and even treat elongated teeth.
Your clear aligners will be computer-generated based on current dental records. If you would like to find out if you are a candidate for orthodontic treatment using clear aligners, we will need a full set of records to properly assess your case starting with a thorough examination, taking radiographs (x-rays) of your teeth, jaws and skull, as well as photos and impressions of your teeth that can be used to create models. If you have a good bite, which means that your back teeth fit together properly, clear aligners should be a viable treatment option for you. However, if your upper and lower jaws don't align properly, resulting in a severe overbite or underbite, you will more likely need traditional orthodontic braces to straighten your teeth and improve your bite.
Each patient presents unique dental challenges. Cases vary, but you can expect to have to wear the aligners all day except when eating, for an average of anywhere from six months to two years. But don't worry about what others might think — clear aligners are barely noticeable at all.
If you are ready to improve your smile with this state-of-the-art orthodontic treatment, call our office today at (248) 589-2021.
Posted by drgraef on May 20th, 2011 7:02 pm
Filed under invisalign . You can follow any responses to this entry through the RSS 2.0 feed. Both comments and pings are currently closed.
Comments are closed.