A Clear Alternative for Adult Orthodontic Treatment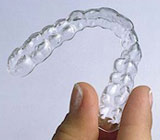 It's a fact that everything in life changes. Tooth alignment is no exception. Even if you were blessed as a child with perfectly positioned pearly whites or achieved them thanks to successful orthodontic therapy, with the passage of time, you may be noticing more space between some teeth and more crowding among others. Perhaps you've considered doing something about it, but discounted the idea out of concern for the potential personal and/or professional impact of wearing traditional metal braces. If that is the case, then Invisalign clear orthodontic aligners may be a solution.
This treatment uses a series of transparent plastic aligners — each slightly different than the one that precedes it — which you wear for about 22 hours a day. About every two weeks, you "graduate" to the next aligner in the progression (or set of aligners if your treatment involves both the upper and lower teeth) as your teeth are gently shifted into the improved final positioning. Besides being practically invisible when worn, aligners can be removed for eating, drinking, social events and brushing and flossing — a clear advantage over traditional braces, which are cemented in place. They're also comfortable because there are no rough edges or wires. Total treatment time ranges from 6 months to two years, depending on the degree of movement required.
The main consideration in determining whether clear aligners can work for you is the type and extent of movement required. The system is most effective when crowding or spacing of teeth is mild to moderate, and ideally, you should already have a good "bite" — i.e., your back teeth fit together properly. When crowding or spacing is more severe, or if your bite is off and your upper and lower jaws don't meet well, traditional braces may be the better treatment option. Certain movements are more difficult and less predictable with clear aligners — such as closing extraction spaces, uprighting teeth, and rotating, torqueing or other complex movements.
Dental health can also be a factor for adult patients. Gum disease, which is more prevalent as we age, can lead to the loss of tooth-supporting bone. Orthodontic treatment works by moving teeth within the supporting bone, and can aggravate bone loss. Bone loss isn't necessarily a deal breaker, but active gum disease must be brought under control before orthodontic treatment can proceed. Certain medical conditions elsewhere in the body may preclude treatment and drugs used for arthritis or osteoporosis can make tooth movement more difficult.
Our office can perform an assessment to determine whether you are a good candidate for clear aligners. Although change is inevitable, it can work to your advantage when it comes to orthodontic treatment!
If you would like more information about clear orthodontic aligners, please contact us today at (248) 589-2021 to schedule an appointment for a consultation. You can also learn more about this topic by reading the Dear Doctor magazine articles "Orthodontics For The Older Adult" and "Clear Orthodontic Aligners."
Posted by drgraef on Apr 25th, 2013 12:24 pm
Filed under orthodontics . You can follow any responses to this entry through the RSS 2.0 feed. Both comments and pings are currently closed.
Tags: clawson cosmetic dentist, clawson orthodontics, invisalign
Comments are closed.